� How to increase Outlook's performance
1. Extract the attachments
Extracting the atachments from your emails is the best way for improving Outlook's performance. No wonder that there are a lot of add-ins that propose that solution. The only difference that this one is free. Just follow these steps:
- Download the Outlook Attachment Remover Add-in and install it
- Run Outlook
- Extract the attachments from your Inbox and Sent Items. To know how, check here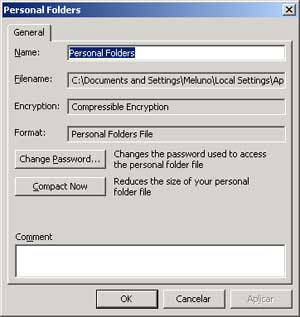 2. Compact Personal files

- On Outlook, select the menu File|Data File Management...
- Select the first file on the list then press Settings...
- Press the Compact Now button. This step will take a little while
- Close this dialog box an repeat the process for your other personal files (if you have more than one).



3. Archive old emails

Archiving your old emails, like removing the attachments, decrease the personal files size and, by doing so, increases the Outlook's perfomance. The procedure copies old email messages and attachments to an Archive.pst file and then removes the data from the main .pst file.
In other hand, archiving emails make the information "less accessible" and also, if you leave the archive folder opened all the time, that won't save you a lot of memory.
Anyway, archiving very old Outlook's emails, is a valid measure for descreasing your Outlook's files size.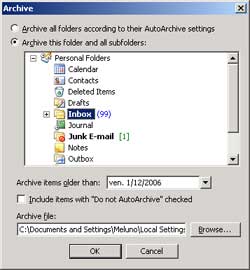 To do it once:
- Under the File menu, select Archive.
- On the Archive dialog, select the folder you want to archive.
- Optionally (for advanced users) you can change the file to store the archived items.
- Press OK.
- After archiving, is always good to compact your personal file.

To setup the Auto-Archive feature:
- Under the Tools menu, select Options.
- Select the Other Tab and press the AutoArchive button
- Change the options as they better suit you and press OK

To hide the Archive Folders:
- Right click on the Archive Folders
- Choose the option Close "Archive Folders"

To view the archived items:
- Under the File menu, select Data File Management
- Press add then OK
- Select the Archive.pst file and press OK
- The Archives Folders will reappear.

4. Other valuable tips
Here follows some other tips that may help you improving the Outlook's performance:

Turn off the Instant Messaging: Under Tools | Options | Other, turn off the Enable Person Names Smart Tag.

Turn off the SSDP Discovery Service: If your office doesn't have way-kewl HiFi and video, and you know for certain your network printers aren't UPnP devices, you can safely disable SSDP Discovery Service from XP's Computer Management.
- On the Windows Start Menu, select Run.
- Type "services.msc" then press OK.
- A new window should appear listing all the services on your machine. Highlight the service called SSDP Discovery Service.
- Right click on it and select Properties.
- Set the Startup type to manual and press the Stop button (if enabled).
- Press OK.